Wednesday, February 28, 2007

Two weeks ago, Max deleted my save-game data for Shadow of the Colossus. I was making an espresso in the kitchen when I heard Rose gasp.

He's three-and-a-half, and up until now his ability to navigate the PS2 menu system and control CDs/DVDs has been nothing but cute, if not mildly impressive for someone his age. Wake up call! The kid is suddenly able to do technological damage. Time to password protect the computer to prevent the inevitable "format c:" attempt, which at this rate cannot be more than 6-8 months away... [22:58 | Link]


Sunday, February 18, 2007

Seven years ago today Rose and I stood before a judge and several witnesses (accomplices?), where we both took a vow to stick together, for better or for worse. Later we got Chinese take-out, unplugged the phones, and flew to Italy the next day.

So far, so good! [00:01 | Link]


Monday, February 05, 2007

Max (now 3 years, 7 months) wrote 'MARBLE' while writing George Rhodes a thank-you letter!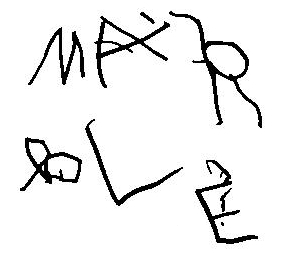 The rest of the story: Sometime around April 2006, while at Rainbow Babies & Children's Hospital visiting the newborn daughter of friends, Max discovered the work of George Rhoads. The sculpture on display there, 'Circus of the Spheres' (as we now know it), captivated Max's attention for about 45 minutes. We couldn't get the kid outta there.

About three months later, shortly after Esmé's birth, our DVR grabbed an older Mister Rogers episode featuring George Rhoads. Needless to say, that episode has been marked 'do not erase'. Max had suddenly developed a rapidly growing interest in 'ball machines', marbles, and all things related (probably the earliest manifestation of this interest was Max's fascination with the Animusic video 'Pipe Dream'). Multiple web searches ensued.

Next we discover that George Rhoads lives in Ithaca, our stomping grounds for 3+ years (and we didn't have a clue)! Rose quickly acquires the studio telephone number, makes a call, and presto, Max has a private tour of Mr. George Rhoads' studio scheduled, which serendipitously coincided with my attending the annual Cornell Real Estate Conference. What a wonderful time that was; Max just drank it in.

For Christmas 2006, Santa brought Max a Quercetti marble run (with auto-collecting marble-return elevator, thank-you), and the marble madness continues when he and I play video games like Ballance together.

Are marbles the new trains?

[17:45 | Link]


Sunday, February 04, 2007

Movin' On Up.

Well, the Carroll-Merendino household is finally due for its regularly-scheduled 5-year computer upgrade. It's fun to look at specs:


| | | | | |
| --- | --- | --- | --- | --- |
| | | Old | | New |
| Processor | | Intel Mobile Pentium 4 M 1.8 GHz | | Intel Core 2 Duo E6600 |
| Memory | | 512 MB DDR-266 SDRAM | | 2 GB DDR2-800 SDRAM |
| Graphics | | Mobility Radeon 7500 | | Radeon X1950XT |
| Hard Disk | | 60 GB 5,400-RPM | | 1 TB 300 MB/s 7,200-RPM 16MB cache |
| Optical | | DVD/CD-RW | | 20x DVD±RW Dual-Layer, LightScribe |
| Motherboard | | Unknown | | Asus P5B-VM |
| Display | | 15" XGA LCD | | Dual 17" SXGA LCDs |
| Case | | Laptop | | Thermaltake Lanbox 550W |
| OS | | XP Home | | Vista Home Premium |

[23:15 | Link]



***
Powered by Blogger.